Why Cocoa Cravings
Distinctive.  High Quality. Pure Ingredients. Exceptional Taste.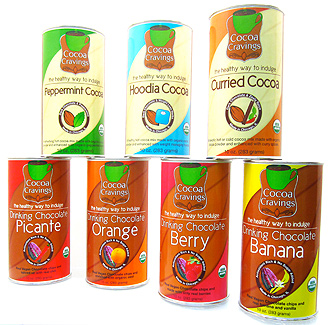 For the chocolate lover in all of us, Cocoa Cravings mixes will hold a special place for you. With Cocoa Cravings, you get nothing artificial, nothing over engineered – just top notch ingredients, prepared exactly the way they should be with care, style and dedication.
Drinking Chocolates
There are many drink options: sports drinks, powder mixes, soda, coffee, tea, and more.  The list is almost endless. We think that after trying Cocoa Cravings, you'll forget about all the others.
Berry Cocoa
Cool Peppermint Cocoa
Orange Drinking Chocolate
Picante Cocoa
Curried Cocoa
Cocoa Hoodia
Banana Drinking Chocolate
Hot Cocoa Drinks
These hot cocoa drinks will keep you warm through the winter and delight you in the summer with their refreshing, unique flavors.
Picante Cocoa
Curried Cocoa - Spicy Drinking Hot Cocoa
Cool Peppermint Cocoa Drink Mix
Cocoa Hoodia Drink Mix
Berry Cocoa Drink Mix
Orange Drinking Chocolate